Enjoy 20% OFF at Pedro when you use your PNB Cards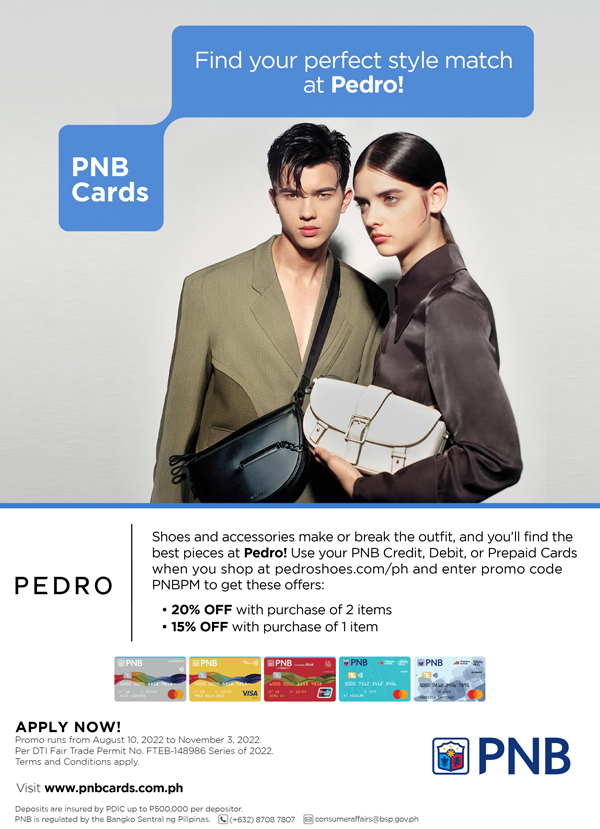 Program Mechanics:
I. Qualification
The program is open to all active PNB Credit, Debit, or Prepaid cardholders
II. Promo Period and Discount
1. Promo runs from August 10, 2022 to November 3, 20222.
2. Cardholders are entitled to get the following offers when they use their PNB Credit, Debit, or Prepaid Card:
•20% OFF with purchase of 2 items
•15% OFF with purchase of 1 item
•Use promo code: PNBPM
III. How to Avail of Discount:
1. Cardholders must charge the entire bill to his/her PNB Card to avail of the promo.
2. Cardholder must use promo code to avail of the promo.
IV. Terms and Conditions
1. Promo is applicable on full-priced items, excluding socks, and shoe care.
2. Item accumulation may include both full-priced and sale items.
3. Promo discount is non-transferable and cannot be converted to cash or exchanged for other items.
4. Promo offer is not valid in conjunction with other promotions, special offerings, or discount privileges.
5. All matters and disputes will be subject to the final decision of PNB and its partner merchant in concurrence with DTI, will be deemed final and irrevocable.
6. The Terms and Conditions governing the issuance and use of PNB Credit, Debit, and Prepaid Cards are incorporated herein by reference and made an integral part hereof.
Per DTI Fair Trade PermitNo. FTEB-148986 Series of 2022.