Global Filipino Card
The Global Filipino Card is a re-loadable cash card which is the simple, fast, reliable and convenient way to receive remittances. It offers security and peace of mind wherever you withdraw your funds.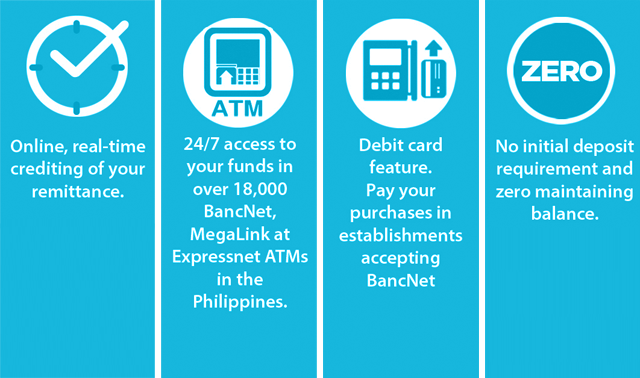 Beneficiaries will receive text alerts when funds are loaded in the card.
Maximum withdrawal limit of P100,000 per day in PNB ATMs.
Online checking of balance via GFC web inquiry.
Getting a Global Filipino Card is as easy as 1-2-3.
Just visit any PNB branch or remittance center here or abroad.
You will be asked to fill-out a Global Filipino Card application form.
Don't forget to bring one (1) valid government-issued ID.
PNB Global Filipino Card Fees and Charges
Features
Interest Rate
0%
Maximum Monthly Loadable Value
Php 100,000.00
PDIC Insurance
Non-depository
Fees
Local ATM Consortium

(BancNet, MegaLink, ExpressNet)

MasterCard
Membership Fees
None
None
Card Replacement Fees
Php 100.00
Php 100.00
Monthly Dormancy Fee
Php 100.00
Php 100.00
PNB ATMS: Withdrawal & Balance Inquiry
FREE
FREE
Non-PNB ATMS: Withdrawal
Php 11.00
Php 11.00
Non-PNB ATMs: Balance Inquiry
Php 2.00
Php 2.00
International Transaction Charges (Transaction fee when card is used outside Philippines)
NA
Withdrawal – Php150.00
Inquiry – Php75.00
All charges made in foreign currencies will be automatically converted to Philippine Peso on the posting dates at the prevailing exchange rate determined by PNB.
Download GFC Application Forms
---
Overseas
(Branches and Remittance Centers)
What are the acceptable government IDs?
To establish your identity, you just need to provide one (1) of these. Make sure ID to be presented is not expired.
Passport
SSS ID
Driver's License
PRC ID
NBI Clearance
GSIS ID / e-Card
UMID
Postal ID
Voter's ID
TIN
Police Clearance
When will my Global Filipino Card be activated?
Upon receipt of your GFC Welcome Pack, please expect that your Global Filipino Card will be activated within 1-3 business days.
How can I send / credit money to a Global Filipino Card?
Just visit any PNB Branch, Remittance Center or agent tie-up abroad. Also via, PNB Web Remit or PNB Phone Remit.
PNB Web Remit: Access via www.pnbwebremit.com
PNB Phone Remit Hotlines: 855-889-7788 for United States of America
+442073132300 or +442073132323 for United Kingdom
+33172254084 or +33145053400 for France
Make sure you have the correct 16-digit Global Filipino Card number where the money will be sent or credited.
How can I access the funds in my Global Filipino Card?
There are several ways of accessing your funds:
Withdraw from more than 18,000 BancNet, Megalink, ExpressNet ATMs in the Philippines.
Use it as Debit Card. Pay for your purchases in establishments with Bancnet or MasterCard point-of-sale terminals.
For GFC MasterCard, you may withdraw the funds or use as Debit Card via Cirrus, MasterCard or Maestro terminals abroad. Subject to cross border transaction fees.
For GFC BancNet, you may withdraw using any NYCE ATMs in the US. Subject to applicable cross-border transaction fees.