OFW Savings Accounts
ATM Card for Overseas Filipino Workers and Beneficiaries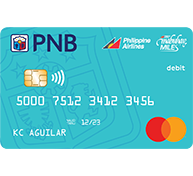 ✓ Comes with a PNB-PAL Mabuhay Miles OFW Savings Debit Mastercard which can be used at:
Mastercard and Maestro accredited merchants
Over 2 million ATMs worldwide
✓ Interest-earning account*
✓ Earn points which can be redeemed for Mabuhay Miles when you shop at select merchant categories
✓ Withdraw at any PNB and BancNet ATMs in the Philippines and at any Mastercard and Maestro accredited ATMs worldwide
✓ Use for online transactions for ease and convenience
✓ Tap to pay on any Mastercard PayPass-enabled POS machines
*ADB must be Php 10,000.00 to earn interest
PNB Debit Cards Terms and Conditions
PNB Debit Cards rewards Program Terms and Conditions
| Product | OFW Savings Account |
| --- | --- |
| Peso Debit Card or Passbook | Php 0.00 |
| Dollar (Passbook only) | $ 0.00 |
Acceptable identification cards (ID's) to be presented upon opening of the account may be one of the following:


Passport
Original employment contract (duly notarized and approved by POEA ) will be accepted together with at least a photocopy of passport
Drivers License
Professional (PRC) license
SSS/GSIS membership cards
OFW ID (issued by POEA/OWWA)
NBI/Police clearance


In addition to the above, documents without picture such as Marriage contract, BIR TIN and Credit cards should always be accompanied with a photographed ID.
2 ID pictures (1X1 or 2X2)
Letter of Introduction*
*This is only needed if the client is not ready to open OFW savings account due to lack of funds and identification. The Letter of Introduction must be submitted with one ID to the particular branch chosen by the OFW/Beneficiary.
PNB OFW Savings Account Fees and Charges
Balance Requirement
Initial Deposit
Php 0.00 / $ 0.00
Minimum Maintaining Balance
Php 0.00 / $ 0.00
Minimum ADB to Earn Interest
Php 10,000.00 / $ 1,000.00
Interest Rate
Effectivity Date: February 1, 2015
0.100% p.a.
Dormancy
2 years
Dormancy Fee
Php 0.00 / $ 0.00
Record of Transactions
Upon request
Other Charges
Passbook Replacement
Php 100.00 / $ 5.00
Average Daily Balance (ADB) of the account falls below the required minimum monthly ADB for at least two (2) consecutive months.
Php 0.00 / $ 0.00
Interbranch/interoffice deposit/withdrawal transaction, except transactions made between and among —

Metro Manila Branches
Non-Metro Manila branches or provincial branches located within the same city, municipality or province.

Php 100.00/Php 200.00