PNB gathers knowledge experts to push growth of Luzon economy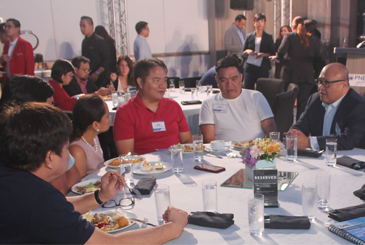 PNB CEO Wick Veloso (rightmost)
exchanges ideas with business owners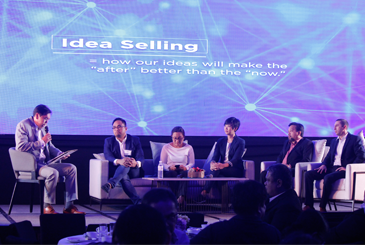 The idea selling forum tackled insights from innovation experts
Over a hundred business owners and entrepreneurs from the North and Central Luzon provinces gathered recently at the Clark Marriot Hotel for the "2019 Transforum: Connecting You Forward", a first-of-its-kind innovation forum hosted by Philippine National Bank (PNB) for its corporate clients in the region.
PNB President and CEO Wick Veloso said the bank held the innovation gathering as it supports building a more robust economic landscape for the region. "We are bringing groups of knowledge experts together with businesses who have successfully deployed new technologies. We want to show business owners the latest trends in innovation as many of them gear up their businesses for the next level," Veloso said.
Luzon is a major contributor to the economy as it is the base of many businesses. The region combines the advantages of having agricultural and industrial zones, tourism and retail areas, an international airport, a seaport, support services, and major highways. These elements make the region an ideal investment and residential destination.
"We see growth in many regions and we aim to drive local economies in the countryside to help sustain the country's economy as a whole," Veloso said, adding that PNB's strategy is focused on pursuing safe, aggressive growth in various areas of business. He adds, "PNB wants to be at the forefront of innovation and business. As a financial and growth partner of Filipinos, we want to help guide business owners on how they can make automation work for them."
Participants of the Transforum came from growth sectors including agriculture, manufacturing, retail/wholesale, distribution and construction. They learned valuable insights from a roster of top-notch PNB CEO Wick Veloso (rightmost) exchanges ideas with business owners The idea selling forum tackled insights from innovation experts 2 keynote speakers with expertise in the fields of digital payments, supply chain management, and electronic learning.
The audience found particularly interesting the talk of Antonieta Arceo, Chief of Information Services Division of the Agricultural Training Institute, the training arm of the Department of Agriculture. In partnership with a leading telco, Arceo has pioneered a technology-based program that applies e-learning for farmers and fisher folk.
Apart from Arceo's digital inclusion initiatives, participants also learned about digital payments from Cathlyn Dolor Pavia, Head of VisMin Enterprise Group of Mynt, the creators of GCash. Meanwhile, Unido Holdings Group Chief Financial Officer Francis Reyes shared the success story of Landers Superstores and how technology plays a vital role in their supply chain management.
Another important part of the program was the idea-selling forum which was paneled by key people from two innovation-driven companies: Rey Maria Chumacera, President and CEO of GHL Systems Philippines, Inc., a leading end-to-end payment service enabler in the Philippines; and Netanel Kremer, Chief Operations Officer of Star 8 Green Technology Corporation, a global leader in functional solar technology, and creators of the Automated Fare Collection System. Moderated by PNB's SVP and Head for Ecosystem Sales Christian Jerome Dobles, the idea-selling forum focused on financial solutions and digital technologies that help drive new outcomes and increase value for business.
In keeping with PNB's thrust for value creation, SVP and Head for Ecosystem Division Muffet Flores-Caculitan presented PNB Connect, the bank's brand of comprehensive, end-to-end financial solutions tailor-fit to address the unique financial needs of enterprises. Clients shared stories of how PNB Connect helps their businesses to transform and flourish.
To make the digital experience more engaging, the guests were given the chance to use the interactive Transforum event app which allowed them to view the program schedule, speaker profiles, and forum topics, as well as take part in live polls and Q&As. Guests also tested the latest financial tools at the digital exhibit of PNB's partner service providers.
The Transforum was held a day before PNB hosted the Asian Bankers Association (ABA) Conference at the Shangri-La Manila – an annual gathering of top bankers and finance executives from various Asian countries. ABA provides a forum for advancing the cause of the banking and financial industry in the region by promoting regional economic cooperation.