PNB General Insurance and AlliedBankers Insurance Corp. Win Big in PIRA Awards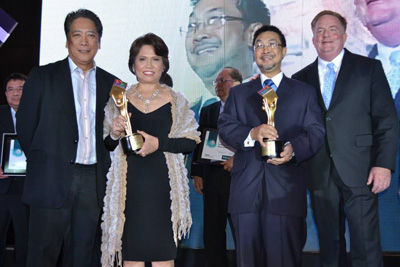 Photo shows (from left): Mr. Pedro Benedicto, former President of PIRA; Ms. Rebecca dela Cruz, President of AlliedBankers Insurance Corp.; Mr. Joven Hernandez, Senior Executive Vice-President and Head of PNB Branch Banking Group; and Mr. Patrick Merkley, President of Global Benefits Philippines ATMSafe
Philippine National Bank General Insurance (PNBGen) and AlliedBankers Insurance Corp. (ABIC) recently won the Best in Innovation Award for their entry, ATMSafe 911, in the 2013 Philippine Insurers and Reinsurance Association, Inc. (PIRA) Awards. With the theme, "Breaking New Ground", this year's PIRA Awards recognized outstanding non-life insurance companies which implemented innovative solutions in their business operations.
The winning entry, ATMSafe 911, is the country's first innovative card benefits program that ensures the safety and protection of PNB ATM cardholders. The program, in partnership with Global Benefits Philippines ATMSafe, replaces a percentage of the money stolen from a cardholder's account during an ATM robbery committed in the Philippines or overseas, wherever PNB ATM cards are accepted. Other benefits of the program include: replacement of cash in the event of accidental death, hospital confinement or identity theft.
With ATMSafe 911, cardholders are covered 24 hours a day, 7 days a week – all for only eleven pesos (Php 11) per month. For inquiries, please visit any PNB branch nearest you or log on to www.pnb.com.ph. You can also avail of this revolutionary program by selecting the ATM Safe icon when accessing your ATM account.