PNB Partners with Auto Camp Ortigas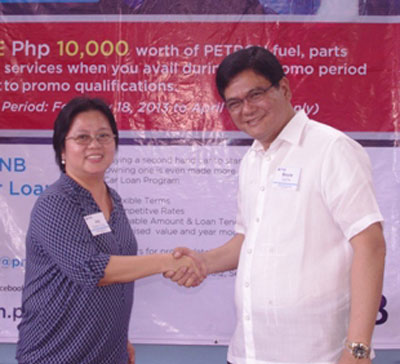 In Photo (from left): Auto Camp Owner, Joy Dela Cruz sealed the partnership with Philippine National Bank (PNB) First Senior Vice President and Head of Consumer Finance Group Elfren Antonio S. Sarte for PNB's 2nd Hand Car Loan Promo
Philippine National Bank (PNB), one of the country's largest commercial banks partnered with Auto Camp, one of the premiere used-car showrooms in Manila, for PNB's 2nd Hand Car Loan promo. An intimate launch event was held at the Auto Camp showroom last February 15, 2013 for dealers and selected guests who were given a glimpse of the exciting freebies that came with the promo. Ms. Joy Dela Cruz, Auto Camp Owner together with Mr. Gilbert Wilwayco, President of Auto Camp Dealers sealed their partnership with PNB First Senior Vice President and Head of Consumer Finance Group, Elfren Antonio S. Sarte during the launch. Other PNB officers present during the event were Senior Vice President and Marketing Group Head, Noel A. Tuazon; Assistant Vice President, Gilbert R. Guevara; Account Officer, Eric V. Panahon and Product Manager for Consumer Loans, RB R. Dela Peña.
Clients who apply and are approved for a 2nd Hand Car Loan from February 18 to April 16, 2013 will receive Free Chattel Mortgage and a Free Petron Gift Card worth P10,000.00. PNB's partnership with Auto Camp is the first joint venture between both parties. Through this program, the PNB 2nd Hand Car Loan becomes the better choice for those wanting to purchase used cars. As an added service to clients, a satellite office located at JMT building, Ortigas branch was established. The office accepts and pre-processes loan applications and facilitates signing and approval of loan documents.
For more information about PNB's Consumer Loan products, you may visit the nearest PNB branch or call 573-8888. You may also log on to www.pnb.com.ph.