PNB Plaza Sta. Cruz Branch's Inauguration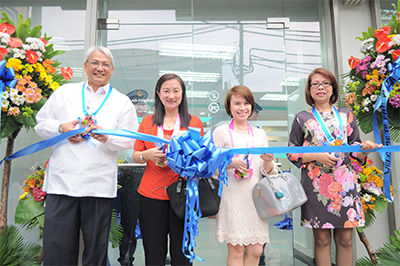 Gracing the ribbon-cutting ceremony were: (from left) FSVP Rafael Z. Sison, Jr., Head of PNB Branch Banking Division; Ms. Evelyn Lua of Success Lightings; Marivic H. Del Pilar of Victory Liner, Inc.; and SAVP Myrna P. Chua, Area Head of PNB Metro Manila 8.
Philippine National Bank (PNB) continuously upgrades the facilities of its branches by means of relocation. This is also in line with the Bank's thrust of providing the best quality of service to its clients. The most recent branch relocated is the PNB Plaza Sta. Cruz Branch situated at 740 Florentino Torres St., Sta. Cruz, Manila which held its inauguration last March 22, 2013.
Sta. Cruz is one of the busiest business areas in Manila. Its proximity to Manila's main trade centers such as Binondo and Divisoria makes Sta. Cruz a strong commercial trading hub. As Sta. Cruz consistently responds to the economic needs of the area, PNB complements it by providing innovative banking solutions: complete range of products and services in deposit, trust and investment, and consumer and commercial loans.
PNB continuously improves and expands its branches and ATM network to achieve its aim of providing service excellence to its clients nationwide.