PNB to Launch New Equity Fund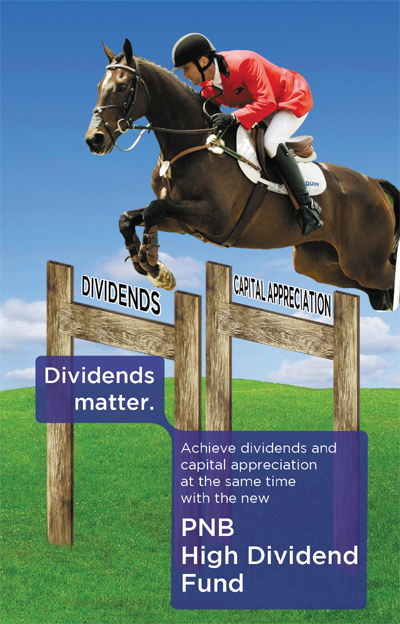 The PNB High Dividend is the first and only equity UITF in the market that seeks dividend income and capital appreciation by investing in listed companies that have high dividend yields and have an established history of paying dividends.
According to PNB Trust Banking Group Head and First Senior Vice President Rafael G. Ayuste Jr., the PNB High Dividend Fund offers investors with higher earnings potential as it features two sources of income, dividends and stock price appreciation.
The Fund will invest in strong, established and stable companies. Typically, these are companies that are highly-liquid and have high, regular dividend payouts." Ayuste said.
The PNB High Dividend Fund is ideal for those who want to invest in the stock market with just a minimum initial participation of Php25,000. The Fund has a minimum holding period of 90 calendar days, making it a liquid form of investment.
"This product is recommended for individuals with a long-term horizon. As such, we advise them to ignore short-term fluctuations in the market and look to the capital appreciation that adds value to their investment in the long term." Ayuste emphasized.
The PNB High Dividend Fund is managed by the PNB Trust Banking Group, which has a team of professional fund managers who have a wealth of training and experience under their belts.
The PNB High Dividend Fund is another excellent addition to PNB's equity fund product plate. About two years ago, PNB launched the PNB Enhanced Phil-Index Reference Fund and the Mabuhay Prestige Fund, which boasts of having unique, well-defined and compelling investment strategies.
PNB also offers several funds that cater to conservative investors. It has the Mabuhay and Dollar Prime funds, money market funds which are purely invested in deposit instruments therefore has no volatility and provides better returns than time deposits.
The Global Filipino Funds (GFF's) are another set of PNB's UIT funds which are specifically designed to cater to overseas Filipino workers (OFWs). The GFF's, denominated in both peso and dollar, have very low initial participation of only Php10,000 for the peso fund and USD200 for the dollar fund to encourage OFWs to save a portion of their earnings for their future needs.
For information about the PNB High Dividend Fund and other PNB trust products, you may visit the nearest PNB branch or call any of the following numbers: 573-4335, 573-4574, 573-4527 and 573-4597. You may also log on to
www.pnb.com.ph
.