Prosperity in Unity: A PNB and Allied Bank Customer Appreciation Night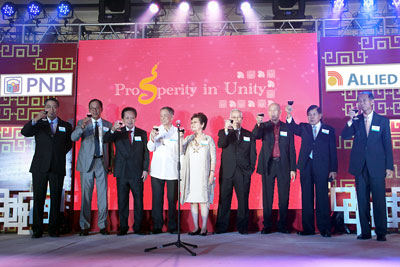 In photo from L-R: PNB Director Deogracias N. Vistan, PNB Director Felix Enrico R. Alfiler, PNB Director Estelito P. Mendoza, PNB Director Lucio C. Tan, PNB Chairman of the Board Florencia G. Tarriela, ABC Director Manuel T. Gonzales, ABC Director Atty. Reynaldo A. Maclang, PNB President Omar Byron T. Mier and ABC President Anthony Q. Chua.
PROSPERITY IN UNITY: A great way to start the New Year is having Unity to manifest a more abundant, prosperous and fulfilling life. This was the message that the Philippine National Bank (PNB) and the Allied Banking Corporation (ABC) conveyed in their first joint customer thanksgiving event held on the eve of their merger, February 8, Friday at the Grand Ballroom of Century Park Hotel. PNB and Allied Bank expressed their appreciation to their valued clients and colleagues who, through the years have shown their trust and commitment to their respective banks. The auspicious event also welcomed the Year of Water Snake and formally announced the merger of both banks as they look forward to the promise of a prosperous new merged bank.
The well-attended affair was graced by valued retail and corporate banking clients. As a true sign of commitment, PNB and Allied Bank's Senior Officers and Directors were in full force as guests were personally welcomed by PNB Chairman Florencia G. Tarriela, Vice Chairman Omar Byron T. Mier, Director Anthony Q. Chua, and Director Lucio C. Tan.
Hosting the event was Chinoy host and singer Ms. Eva Marie Poon who welcomed the crowd with a Chinese-English opening song number. High-end gadgets and luxurious packages were raffled away throughout the night, highlighted by a trip for 2 to Shanghai. Adding excitement to the party was the performance by one of the country's top performers, Ms. Kuh Ledesma. To cap the night's celebration, both banks expressed their renewed commitment to its shareholders with a ceremonial toast.
PNB and Allied Bank are set to build a stronger financial institution that guarantees its clients of constant commitment to their interests. Through this merger, PNB will be the 4th largest private domestic bank in terms of combined total resources, and will now have a distribution network of 627 branches and 800 ATMs nationwide. In addition, it will have the widest international footprint among Philippine banks spanning Asia, Europe, Middle East and North America. With a combined 133 years of banking experience, the new Philippine National Bank is now Bigger, Stronger, and Better. The Bank reaffirms its commitment towards building fruitful and solid partnerships with its clientele to help them achieve their financial goals.