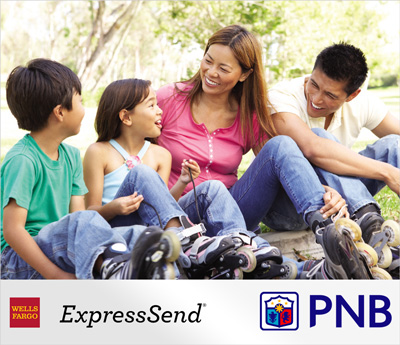 PNB is the newest Preferred Remittance Member of
>Wells Fargo ExpressSend
Now, Wells Fargo ExpressSend customers in the US can conveniently send their remittances to PNB. With this, service, their relatives and friends in the Philippines may receive up to the Philippine Peso equivalent of $3,000 per day for credit to their PNB Peso Account or through any of PNB's 626 branches nationwide.
Plus, $0 transfer fee* on all account-based transfers to PNB until September 30, 2014. This introductory offer is extended to all Wells Fargo ExpressSend customers (new and existing) who will remit money to their beneficiaries in the Philippines with PNB Peso accounts.
Frequently Asked Questions
What are the ways to send money from the US??
Funds must be sent from the US via:
(1) Internet – sign-on to www.wellsfargo.com
(2) Call 1-800-TO-WELLS
(3) Visit any of 6,000+ Wells Fargo stores
How will the beneficiaries receive the remittance?
There are two (2) ways to receive the remittance. These are:


Advise and pay at any of the 626 PNB branches
Credited to a nominated PNB Peso account.

How much is the regular remittance transfer fee?
On October 1, 2014, remittance transfer fee starts at $5 for ExpressSend remittances sent to PNB from an eligible Wells Fargo account.
What is the exchange rate that will be used in any remittance?
remittance? Wells Fargo determines the applicable exchange rate on each remittance. To know more about the Wells Fargo ExpressSend transfer fee, please visit www.wellsfargo.com.
* The first remittance for each new agreement must be completed in person at a Wells Fargo branch. Transactions must be sent from an eligible Wells Fargo account. In addition to the transfer fee, Wells Fargo makes money if converting US dollars to a foreign currency.