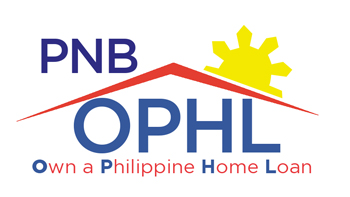 Own a Philippine Home Loan or OPHL is a financing program unique to PNB. It allows Filipinos and non-Filipinos residing and working in the United States an easy way to obtain a bank financing of residential properties in the Philippines.
OPHL is the most convenient and secured home loan with:
NO ATTORNEY-IN-FACT
NO REMITTANCE CHARGES
NO FOREIGN EXCHANGE RATE RISK
LOAN BOOKED IN USD
Features:


Purpose

Purchase of residential lot, House & Lot, Condominium, Townhouse or Rowhouse
House Construction or Home Improvement
Reimbursement of acquisition or construction cost
Refinancing / Loan take out of existing Philippine home loan

Eligible Borrowers

Filipinos residing and working in the U.S.
Natural-born Filipinos residing and working in the U.S. who have lost their Filipino citizenship (limited to a maximum lot area of 1,000 sq.m. only)
Foreigners, but limited to the acquisition of condominium units only

Loanable Amount

| | |
| --- | --- |
| Property to be financed | Loan value |
| Lot and Brand new house | Up to 80% of the selling price or appraised value (AV) |
| Lot only | Up to 60% of the selling price or appraised value (AV) |
| Lot and existing (pre-owned/second-hand) improvement or lot with proposed improvement/construction | Up to 80% of the AV of the property |
| Reimbursement of acquisition/construction cost | Up to 80% of the selling price or AV |
| Loan take-out | Up to 80% of the AV of the property |

Note: Foreigners are entitled to a maximum loan grant up to 70%.

Collateral

The loan shall be secured by any of the following:

Real estate mortgage (REM) on the property being financed
Standby Letter of Credit (SLC) if the host country's rules and regulations do not allow a REM on the property to be financed. The SLC shall: (i) expire one month after maturity of the loan, (ii) be issued by PNB Head Office, (iii) be secured by the real estate mortgage on the property to be financed, and, (iv) be as prescribed by the PNB Legal Group
Hold-out on deposit maintained with the Bank. The hold-out shall fully cover the outstanding principal and interest for a year and shall be backed by an unregistered REM which will be registered immediately in case of default or a clean exposure.

Interest Rate

PLEASE CONTACT PNB NEW YORK FOR THE LATEST INFORMATION AT 212-790-9646 (MR. BERNIE B. PALIGUIN) AND 212-790-9630 (ANNELITA D. APPEL) OR EMAIL AT: paliguinbb@pnb.com.ph or appelad@pnb.com.ph

Manner of Release

The proceeds of the loan will be released in Philippine Peso for purchase/acquisition transactions or in US Dollars for house construction in the following manner:

Lump sum release for purchase of property, refinancing or reimbursement
Staggered loan releases shall have an aggregate amount of up to eighty percent (80%), except on the first release wherein the basis shall be seventy percent (70%) of the AV of the lot. Loan releases shall be up to a maximum of five (5) drawdowns which shall be made at the following stages of completion:

| | |
| --- | --- |
| Loan Release | Stage of Project Completion |
| First/Initial Release | Start of the construction/improvement (below 30% completion) |
| Second Release | Thirty percent (30%) completion |
| Third Release | Sixty percent (60%) completion |
| Fourth Release | Ninety percent (90%) completion |
| Fifth/Final Release | One hundred percent (100%) completion |

Repayment Scheme

Maximum of 25 years for purchase of house and lot, townhouse condominium unit, rowhouse or apartment unit and house construction.
Maximum of 10 years for purchase of lot or home improvement
Repayment of your loan shall be in US dollars. This shall be paid through submission of post-dated checks, over-the-counter payment, or a debit arrangement.
Payment commence one month after the final loan release.
For staggered releases, interest accruing on the initial release shall be deducted from the proceeds of second release. Additional interest due on the first release and interest accruing on the second release shall be deducted from the third release and so on. Consolidation of staggered PNs (Principal + interest) payment shall commence one month after final release.

Insurance

Fire insurance coverage should be equivalent to the latest appraised value of the insurable property or on the contract price as indicated on the Contract to Sell.
Estimated Monthly Payment
(Per $1,000.00)
| Interest Rate | Monthly Payment 10 Years | APR for 10 year Term | Monthly Payment 15 Years | APR for 15 Year Term | Monthly Payment 20 Years | APR for 20 year Term |
| --- | --- | --- | --- | --- | --- | --- |
| 7.00 | 11.62 | 7.328 | 8.99 | 7.241 | 7.76 | 7.194 |
| 7.25 | 11.75 | 7.590 | 9.13 | 7.493 | 7.91 | 7.446 |
| 7.50 | 11.88 | 7.841 | 9.28 | 7.745 | 8.06 | 7.698 |
| 7.75 | 12.01 | 8.093 | 9.42 | 7.997 | 8.21 | 7.950 |
| 8.00 | 12.14 | 8.344 | 9.56 | 8.249 | 8.37 | 8.203 |
| 8.25 | 12.27 | 8.596 | 9.71 | 8.500 | 8.53 | 8.454 |
| 8.50 | 12.40 | 8.848 | 9.85 | 8.752 | 8.68 | 8.707 |
| 8.75 | 12.54 | 9.099 | 10.00 | 9.004 | 8.84 | 8.959 |
| 9.00 | 12.67 | 9.351 | 10.15 | 9.256 | 9.00 | 9.211 |
| 9.25 | 12.81 | 9.603 | 10.30 | 9.508 | 9.16 | 9.463 |
OPHL Requirements:


Application/Identity Documents
OPHL Application Form
Copy of IDs
Acceptable US FICO Score (at least 650) and credit history (no bankruptcies, past dues, etc.)
Non-refundable PROCESSING fee of $150.00
APPRAISAL fee of $150.00
Income Documents
Photocopy of Income Tax Returns (ITR) with all attachments including W-2 forms for the last 2 years
If EMPLOYED: Copies of pay-stubs for the last 2 consecutive months
If SELF-EMPLOYED: Audited Financial Statements of the business for the last 3 years
Bank statements for the last 2 consecutive months (checking and savings) - same months as pay stubs
Collateral Documents
Copy of title (TCT/CTC)
Copy of Tax Declaration on land and/or improvement
Copy of current Real Estate Tax Receipt (RETR) and Tax Clearance
Approved survey/lot plan (signed by Geodetic Engineer)/location plan with vicinity map

Acquisition from accredited Developers

Contract to Sell; or Reservation Agreement with Computation Sheet / statement of account
House Construction or Renovation:
Bill of Materials and Estimates of Construction and Labor Cost signed by Civil Engineer or Architect
Floor and Building Plan and Building Specifications signed by Civil Engineer or Architect