BSP Awards PNB as Top Commercial Bank in Generating Remittances from Overseas Filipinos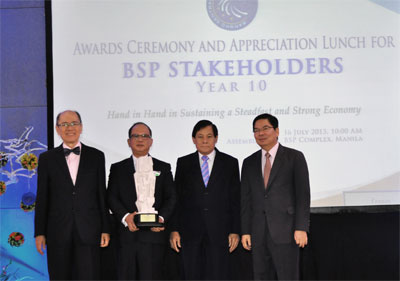 Photo shows (L-R) Monetary Board Member Armando L. Santos; Philippine National Bank (PNB) Senior Vice President Benjamin S. Oliva; Philippine National Bank (PNB) President and Chief Executive Officer Omar T. Mier; Bangko Sentral ng Pilipinas (BSP) Governor and Chairman of the Monetary Board Amando M. Tetangco
For the second year in a row, the Bangko Sentral ng Pilipinas (BSP) awarded Philippine National Bank (PNB) as the Top Commercial Bank in Generating Remittances from Overseas Filipinos. The award was given last July 16, 2013 during the 2013 BSP Stakeholder's Awards held at the Assembly Hall of BSP Complex in Manila. PNB also received a certificate of appreciation as one of the Hall of Fame Awardees, having been recognized as the Best Commercial Bank Respondent on Overseas Filipino Remittances for four straight years.
PNB President Omar T. Mier and First Senior Vice President Benjamin S. Oliva received the award from BSP Governor and Chairman of the Monetary Board Amando M. Tetangco and Monetary Board Member Armando L. Santos.
Having the largest overseas footprint among Philippine banks, PNB has built a very strong franchise in the remittance business to cater to the needs of Global Filipinos. Last January, PNB-Remittance Center Incorporated (PNB-RCI) in the U.S. launched the "Phone-in Remittance" service which allowed customers to send remittances using their phone 24/7. This service is available in 22 U.S. states covered by 32 PNB-RCI overseas branches.