BSP recognizes PNB as outstanding regional partner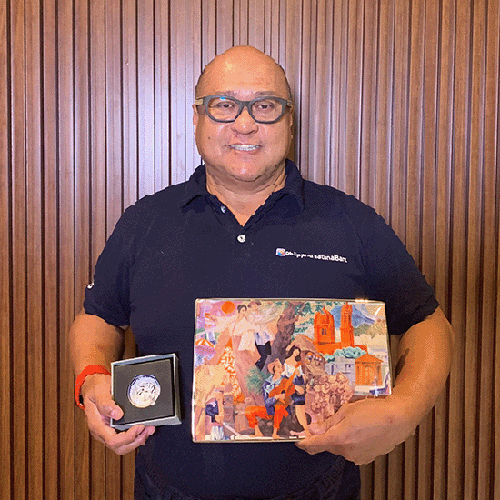 PNB CEO Wick Veloso receives the award on behalf of the bank.
Photo shows (from left) Cash Center Officer Grace L. Castillo and Cash Center Head Estelito B. Pablo receiving the award on behalf of PNB Laoag Cash and Clearing Unit.
Photo shows (from left) Visayas Region Head John Salas, Cash Center Head Julie Christine Alontaga, and Visayas 1 Area Head Walter Lasaca receiving the award on behalf of the PNB Cebu Cash Center.
PNB Mindanao 4 Area Head Grace Gaborno spearheaded BSP's "Likom Barya Para Kay Lolo at Lola" when she was still the branch head of PNB Butuan-Montilla.
(August 23, 2021) — Philippine National Bank (PSE: PNB) has been recognized by the Bangko Sentral ng Pilipinas (BSP) in the 2021 Outstanding BSP Stakeholders Appreciation Ceremony held through a virtual event on July 30, 2021.
Receiving distinction as BSP's 'Outstanding Regional Partners' were PNB (National Capital Region), PNB Laoag Cash and Clearing Unit (Region 1), PNB Cebu Cash Center (Region VII), and PNB Butuan-Montilla Branch (Region XIII).
PNB President and CEO Wick Veloso was part of this year's awards ceremony. "PNB fully supports BSP's strategy of bringing financial services closer to the Filipino people," he said in his message. "We will continue to work with the BSP as well as our peers in the industry to deliver banking products and services that are inclusive, efficient, and safe. We are committed to leveraging technologies to ensure that the integrity of the Philippine financial system is preserved and our customers' transactions are kept secure."
The Lucio Tan-led bank has been an active participant in BSP's "Likom Barya Para Kay Lolo at Lola" initiative for years now. The program encourages Filipinos to crack open their alkansya (piggy banks) at home and deposit or replace their coins with bills. This program was created to help reduce the coin shortage in the country.
The bank also supports BSP's Clean Note and Coin program, an initiative that helps to discontinue the circulation of unfit bills and coins.
Themed "Pagpupugay at Pagkilala sa Gitna ng Hamon ng Pandemya", the awards program is now on its 28th year of recognizing BSP partners. The stakeholders have been recognized for their contributions to the BSP's vision of a stronger economy and improved quality of life for the Filipino people.