PNB Appointed as Trustee for Knutsen Philippines Inc. Employee Retirement Fund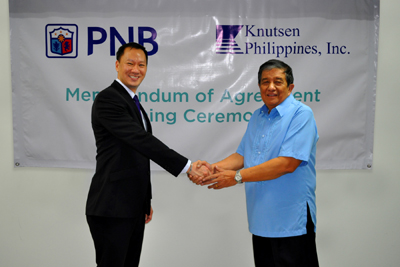 In Photo (L-R): Philippine National Bank (PNB) Trust Banking Head Rafael G. Ayuste, Jr. and Knutsen Philippines Inc. President Capt. Leopoldo T. Arcilla Sr.
Knutsen Philippines Inc. (Formerly Northern Confluence Ship Management Inc.) partnered with Philippine National Bank (PNB) to establish the KNUTSEN PHILIPPINES, INC. RETIREMENT TRUST FUND which will provide retirement, resignation, death, disability and severance benefits for all eligible employees of the company.
Knutsen Philippines Inc. and PNB Trust Banking Group headed by Rafael Ayuste Jr. with the support of Business Development Head, Joy Jasmin Santos entered into an agreement for the Trusteeship of the Knutsen Retirement Fund. PNB Trust Banking Group's branded Employee Enrichment Solution is a unique program that encourages a comprehensive employee benefit plan to achieve short and long term talent management goals through meaningful rewards.
PNB Trust Banking, one of the top 10 trust entities in the industry today, offers some of the best performing unit investment trust funds (UITF) in the market including the recently launched PNB High Dividend Fund, PNB Mabuhay Prestige, a balanced fund, and PNB Enhanced Philippine Index Reference Fund (EPRF) an equity index tracker fund.
PNB provides a full range of trust banking services to corporate, retail, small and medium enterprises (SMEs), and high net worth individuals. Visit
www.pnb.com.ph
for more information on other PNB Trust products and services or call any PNB Trust Marketing Officer at 526-3670 or 526-3660.