PNB Bags Excellence in Business Model Innovation Award in 2014 Retail Banker International Asia Trailblazer Awards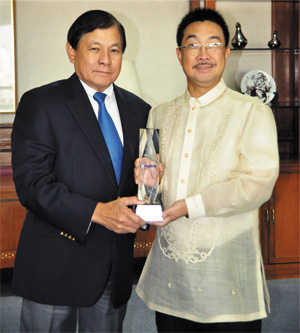 (From left): PNB President and CEO Omar Byron Mier and Retail Banking Group Head Joven Hernandez
The Philippine National Bank (PNB), in partnership with PNB Life Insurance, Inc. (PNB Life), clinched the award for Excellence in Business Model Innovation for their entry, the Healthy Ka Pinoy (HKP) Emergency Card in the recently held 2014 Retail Banker International Asia Trailblazer Awards. The award giving body recognizes Asian banking institutions and credits the outstanding financial institutions that have exhibited a high degree of innovation and enterprise in product development, service delivery and process improvement.
The HKP Emergency Card is the only low-cost insurance product in the country that provides emergency room treatment and accidental death and disability benefits. For an annual premium of only Php 750, cardholders are covered for up to Php 140,000 per year and can seek emergency treatment at any of the 890 accredited hospitals and clinics of East West Healthcare, HKP's hospital network and emergency services provider.
"We believe that a very small portion of Filipinos are covered with health insurance and it leaves a lot of people, particularly the poor and the less fortunate, exposed. So we developed the Healthy Ka Pinoy Emergency Card to address this very important need. It is a very affordable product that provides cardholders with the means to survive an emergency health situation without fear of paying for their hospital bills," said PNB EVP Joven Hernandez. "If a cardholder was not able to use the HKP Emergency Card within the year, a portion of the annual premium will be put to their PNB savings account. With the HKP Emergency Card, we are not only covering our customers, but also teaching them the value of saving," he adds.
The prestigious award serves as validation of PNB's concerted efforts to create a low-cost insurance product that focuses on health care which has not been explored upon in the Philippines before. The award also recognizes PNB's continued adherence in producing innovative products in order to provide customers with the best services available.