PNB Branch opens in Micronesia Mall-Guam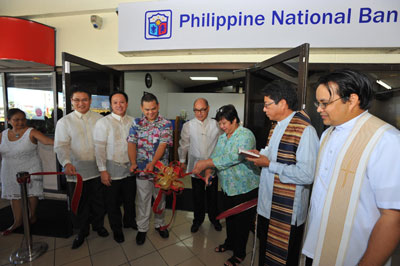 Photo shows (from left) Phil. Consul Edgar Tomas Auxilian, PNB Guam Branch Head Sonny Agdagdag, Senator Dennis Rodriguez, Jr., PNB Guam Branch Marketing Officer Angel Bautista, Dededo Guam Mayor Melissa Savares, Father Dan Bien, and Father Jonathan Alvarez
In line with its commitment of providing even better service to its customers overseas, Philippine National Bank (PNB) inaugurated the Guam-Micronesia Mall Branch (formerly Allied Bank Guam-Tamuning Branch) last September 9, 2013. The event was highlighted by the presence of Bank of Guam Board Chairman and President Lourdes Leon Guerrero and leaders of the Filipino community. Also present were Philippine Consul Edgar Tomas Auxilian, Dededo Mayor Melissa Savares, and Senator Dennis Rodriguez, Jr.
The new Micronesia Mall location will offer full banking services that include remittances, commercial business loans, commercial and business lending, offshore deposits, direct deposits processed via FedWire and American Clearing House, referral of account opening for PNB branches in the Philippines including Allied Savings Bank, and other PNB products and services. PNB Guam Senior Manager and Branch Head Sonny Agdagdag said that with the relocation, the branch has witnessed a 50 percent increase in the total number of remittance transactions. "We are optimistic that we will be able to generate more business in our new location. Dededo is the most populated village in Guam with many Filipinos who regularly send remittances to relatives in the Philippines," he shares.
Following the merger of PNB and Allied Bank last February 9, 2013, PNB became the fourth largest private domestic bank in terms of total resources with a distribution network of 627 domestic branches and 816 ATMs nationwide. It continues to be the only domestic bank with the largest global presence across Asia, Europe, Middle East, and North America. As of August 31, 2013, PNB had 82 overseas offices. During the 2013 BSP Stakeholders' Awards, BSP conferred upon PNB its second straight "Top Commercial Bank in Generating Remittances from Overseas Filipinos" accolade. PNB was likewise recognized as a Hall of Fame awardee for being the Best Commercial Bank Respondent on Overseas Filipino Remittances for four straight years.