PNB Expands Quality Investment Products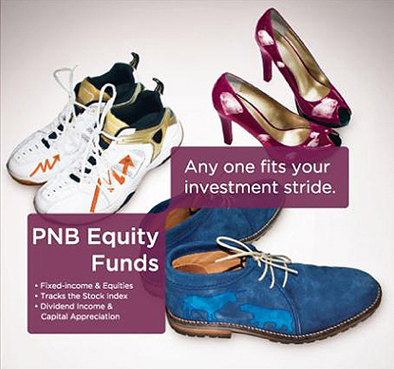 Knowing how your money works is very important. It is therefore important to invest and make your money work for you. That is why Philippine National Bank (PNB), one of the country's largest commercial banks, has designed a suite of trust funds that provide affordable ways to achieve your financial goals.
---
On June 15, 2012, PNB launched the latest addition to its equity product plate — PNB High Dividend Fund. It is the first and only peso-denominated equity Unit Investment Trust Fund that provides dividend income and long-term capital appreciation by investing in listed companies which have high dividend yields and an established history of paying dividends. PNB High Dividend Fund is suited for aggressive investors who prefer equities or stocks and have a long-term investment horizon. A minimum of P25,000 is required to participate in the Fund.
Another product for aggressive investors is the PNB Enhanced Phil-Index Reference Fund. This product is well-matched for investors who are willing to take calculated risks via stock market investments with returns that tracks the PSEi. Unlike other tracker funds, PNB EPRF has a unique investment strategy. It invests in stocks that are highly correlated to the Philippine Stock Exchange Index. This product is the first model-driven fund with a defined investment strategy. It allows investors to ride the stock market gains during a bull run while providing them a safety net from losses during a market downturn by shifting its portfolio to fixed income instruments.
For less aggressive investors, PNB offers the Mabuhay Prestige Fund. It is a peso-denominated balanced fund that hinges its portfolio in equities and fixed income securities. Minimum initial participation in the PNB Mabuhay Prestige Fund is only P25,000. It offers the best of both worlds: the high growth potential of equities and the stability of fixed income instruments. The equities portion is invested in issues with high volatility and large market capitalization. The fixed income portion, on the other hand, is placed in securities issued by the government and the Bangko Sentral ng Pilipinas.
Whatever your financial goals may be, PNB helps you achieve them through its investment products taking into account your specific financial situation, investment goal, risk appetite, and investment horizon. The funds are managed by professional fund managers with proven expertise in investments and wealth management.
For more information about the PNB investments products, you may visit the nearest PNB branch or call any of the following numbers: 573-4335, 573-4574, 573-4527 and 573-4597. You may also log on to
www.pnb.com.ph