PNB Inaugurates Centro Mandaue Branch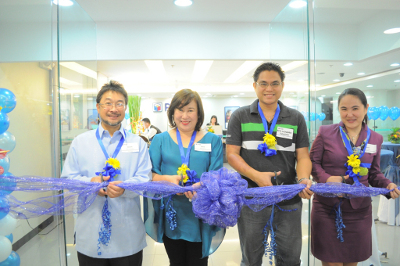 In Photo (L-R): Philippine National Bank (PNB) Retail Banking Group Head, Executive Vice President Joven Hernandez; Chief Executive Officer & Vice Chairman of Gaisano Grand Group of Companies, Mrs. Virginia Gaisano; Mandaue City Legal Officer, Atty. Giovanni Tianero; and Visayas Region Head, First Vice President Jane Gocuan
Philippine National Bank (PNB) recently inaugurated its Centro Mandaue Branch in Cebu City. Mandaue is one of the highly urbanized areas in the central Visayas Region. The town used to depend on agriculture as their means for economic growth. But through the years the city engaged in local and domestic trade which resulted in the growth of major business establishments. Today, Mandaue is Cebu's new economic driver and a port of trade and navigation. PNB aims to complement the growth of Mandaue by offering products and services which can help the area's growing business demands. PNB Centro Mandaue Branch follows the Bank's new retail branch design which features a fresher and modern look. The branch's new layout provides a comfortable and enjoyable banking experience to its clients.
PNB Centro Mandaue Branch was opened with simple inauguration rites led by PNB Executives Joven Hernandez, Executive Vice President & Retail Banking Group Head and Jane Gocuan, First Vice President & Visayas Region Head. The event was likewise honored by the presence of its guests namely, Mrs. Virginia Gaisano, Chief Executive Officer & Vice Chairman of Gaisano Grand Group of Companies and Atty. Giovanni Tianero, Mandaue City Legal Officer who served as sponsors to the inauguration.
PNB now has 339 branches nationwide with 54 branches in Visayas alone and 475 ATMs throughout the country. It is PNB's goal to make all branches a one-stop-shop for clients' banking needs.