PNB Inaugurates Magsaysay Avenue Branch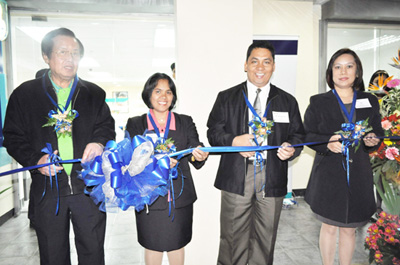 In Photo (L-R): Baguio City Congressman, Honorable Bernardo Vergara; Baguio-Benguet Community Credit Cooperative Inc. (BBCCCI) Manager, Maribel Pasngadan; Philippine Baptist Theological Seminary (PBTS) President, Dr. Armando Canoy and Philippine National Bank (PNB) Assistant Vice President and North Luzon 2 Area Head Christine Marie Rillera.
Philippine National Bank (PNB) recently opened its newly renovated branch in Baguio City along Magsaysay Avenue. The branch follows the Bank's new retail branch design, adopted to show a fresher and modern look. The branch's new layout provides a comfortable and enjoyable banking experience to its clients. Being the first bank in Magsaysay Avenue, PNB is able to serve the needs of nearby barangays such as Trancoville, Bokawkan and Pinget. Branch Manager Cecil Caburao and her team are responsible for servicing the banking needs of new and existing PNB clients in the area. Today, Magsaysay Avenue is the newest commercial hub in the city making it one of the busiest business areas in Baguio City. PNB aims to complement the aggressive drive of Baguio City towards economic advancement by offering products and services which can help the area's growing business demands. It is PNB's goal to strategically build branches in progressive areas such as Baguio City.
PNB continuously expands its branch network throughout the country with 339 branches and 481 ATMs nationwide. With the opening of PNB Magsaysay Avenue Branch, PNB has now 3 branches operating in Baguio City. More branches are slated to be opened by the Bank next year in key cities nationwide.
PNB is a fully private bank since 2007 and is now in the process of merger with Allied Banking Corporation. This will make PNB, the surviving entity in the merger, the fourth largest domestic bank in terms of assets, deposits and loans.