PNB Inaugurates Valenzuela Branch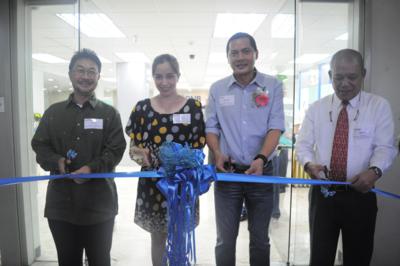 In Photo (L-R): Philippine National Bank (PNB) Retail Banking Group Head and Executive Vice President, Joven Hernandez; Valenzuela City Councilor Shalani Soledad-Romulo; Valenzuela City Councilor Gerald Esplana; and PNB Metro 1 Area Head and Vice President Juanito Pineda.
Philippine National Bank (PNB) inaugurated its newly renovated Valenzuela Branch. Valenzuela plays an important role in the development of northern Metro Manila. The city is now known to be the gateway to the north and one of the country's premiere business and industrial centers. As Valenzuela consistently responds to the economic needs of the area, PNB complements by providing innovative banking solutions. PNB Valenzeula Branch follows the Bank's new retail branch design, adopted to show a fresher and modern look. The branch's new layout provides a comfortable and enjoyable banking experience to its clients.
PNB Valenzuela Branch was inaugurated with PNB Executives Joven Hernandez, Executive Vice President & Retail Banking Group Head and Juanito Pineda, Vice President & Metro 1 Area Head in attendance. The event was likewise honored by the presence of Valenzuela Councilors Shalani Soledad-Romulo and Gerald Esplana who all acted as sponsors to the inauguration.
PNB continuously expands its branch network throughout the country with 339 branches and 475 ATMs nationwide. It is PNB's goal to make all branches a one-stop-shop for clients' banking needs.