PNB One Pavilion Mall – Cebu City Branch Now Open For Business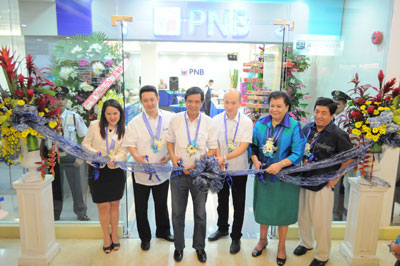 Witnessing the ribbon-cutting ceremony were: (from left) FVP Jane K. Gocuan, PNB Regional Head-Visayas; Mr. Henry S. Gaisano, President of Gaisano Capital Group; Hon. Mayor Michael L. Rama; Mr. Yongson Oh Huan, Finance Manager of Taipan Development, Inc.; Ms. Gema Luisa, Past-President of Rotary Club of Metro Cebu; and AVP Gino C. Gonzalez, PNB Area Head-Cebu Bohol area.
In its quest of providing more opportunities to serve clients and expand its market presence, Philippine National Bank (PNB) formally opened One Pavilion Mall – Cebu City Branch, located at G/F One Pavilion Mall, R. Duterte St., Banawa, Cebu City last March 1, 2013.
The Banawa area is known as a commercial and residential hub for Cebu. As the city consistently responds to the economic needs of the area, PNB complements its development by providing innovative banking solutions. PNB One Pavilion Mall – Cebu City Branch is open from 9:00 am to 4:30 pm, Mondays through Saturdays.
PNB's wide presence in the provinces complements the Bank's goals in continuously improving and expanding its branches and ATM network to achieve its aim of providing service excellence to its clients nationwide.