PNB Receives Silver Award for Corporate Governance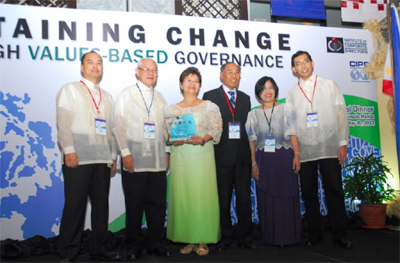 Photo shows (L-R): Philippine National Bank (PNB) Director John G. Tan; Founder and Chairman of the Institute of Corporate Directors Dr. Jesus P. Estanislao; PNB Chairman Florencia G. Tarriela; PNB Director Florido P. Casuela; Securities and Exchange Commission (SEC) Chairperson Atty. Teresita J. Herbosa and Philippine Stock Exchange (PSE) President Hans B. Sicat.
Philippine National Bank (PNB) received the Silver Award for Good Corporate Governance from the Institute of Corporate Directors (ICD) in recognition of its professional practice of corporate directorship in line with the global principles of good corporate governance. The award was given during ICD's 9th Annual Dinner held at the Rigodon Ballroom of the Manila Peninsula Hotel in Makati City.
Compliance with the highest standards in corporate governance principally starts with the Board of Directors who has the responsibility to foster the long-term success of the company and secure its sustained competitiveness in accordance with its fiduciary responsibilities. This same degree of commitment to the highest level of corporate standards is cascaded down to each and every employee in the organization. The recognition affirms the integrity of the organization's corporate governance structure.
The Silver Award from ICD is a validation of PNB's commitment to the highest levels of integrity, accountability, and transparency in the conduct of its business.
The planned merger of PNB with Allied Bank is targeted for completion within the second semester of 2012 after all regulatory approvals have been secured. The respective stockholders of both banks have recently approved the amendment to the Plan of Merger. The merger will be effected via a share-for-share exchange.