Up to P400 OFF at Medgate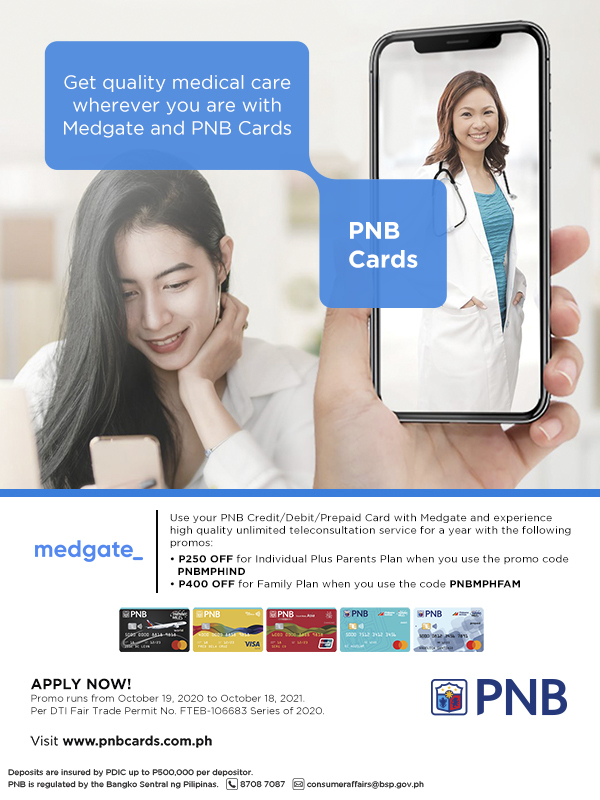 Program Mechanics:
I. Qualification
1. The program is open to all active PNB Credit/Debit/ Prepaid cardholders.
II. Promo Period and Discount
1. Promo period is from October 19, 2020 to October 18, 2021.
2. Cardholders are entitled to the following offers when they use their PNB Credit/Debit/Prepaid Card:
| | | | | |
| --- | --- | --- | --- | --- |
| Product Type | Retail Rate | Discount given to PNB Cardholders | PNB Rate | Number of Consultations |
| Individual plus parents | P1,499 | P250 | P1,249 | Unlimited |
| Family (includes spouse and all dependent children under 18 years old) | P2,499 | P400 | P2,099 | Unlimited |
*Pricing is inclusive of VAT as of July 24, 2020
III. How to Avail of Discount:
1. Go to https://medgate.ph/shop/promo/PNBcards
2. Enter promo code of product choice.

• For Individual plus parents Plan: PNBMPHIND
• For Family Plan: PNBMPHFAM
3. Click "Add to cart".
4. Review "Shopping Cart".
5. Complete the Billing Information.
6. Proceed to payment to place order.
7. Activate keys on designated key assignment page.
IV. Terms and Conditions
1. Teleconsultation plan availed is valid for one year from the date of purchase.
2. Promo is available nationwide.
3. The promo can be used multiple times during the promotion.
4. Promo discount is non-transferable and cannot be converted to cash or exchanged for other items.
5. Promo offer is not valid in conjunction with other promotions, special offerings or discount privileges.
6. Breaking of transactions is not allowed.
7. All matters and disputes will be subject to the final decision of PNB and its partner merchant in concurrence with DTI, will be deemed final and irrevocable.
8. The Terms and Conditions governing the issuance and use of PNB Credit Cards are incorporated herein by reference and made an integral part hereof.

9. The general Terms and Condition of Telemedicine provider, Medgate shall apply.
Per DTI Fair Trade Permit No. FTEB-106683 Series of 2020.