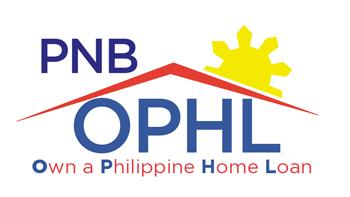 Own a Philippine Home Loan or OPHL is a financing program unique to PNB. It allows Filipinos and non-Filipinos residing and working in Japan an easy way to obtain a bank financing of residential properties in the Philippines.
OPHL is the most convenient and secured home loan with:
NO ATTORNEY-IN-FACT, NO TRANSLATION*
NO REMITTANCE CHARGES*
NO FOREIGN EXCHANGE RATE RISK*
LOAN BOOKED IN JPY
Features:


Purpose
Purchase of residential lot, House & Lot, Condominium, Townhouse or Rowhouse
House Construction or Home Improvement
Reimbursement of acquisition or construction Cost
Refinancing / Loan take out of Philippine Home loan
Eligible Borrowers
Filipinos residing and working in Japan
Filipino married to a Japanese, where Filipino spouse will be co-borrower
Natural-born Filipinos residing and working in Japan who have lost their Filipino citizenship (limited to the purchase of up to a maximum lot area of 1,000 sqm only).
Foreigners, but limited to the acquisition of condominium units only
Loanable Amount
*Minimum loan amount allowed is from PHP 500,000 for lots and PHP 1,000,000 for house & lot*
| | |
| --- | --- |
| Property to be financed | Loan value |
| Lot and Brand new house | Up to 80% of the selling price or appraised value (AV) |
| Lot only | Up to 60% of the selling price or appraised value (AV) |
| Lot and existing (pre-owned/second-hand) improvement or lot with proposed improvement/construction | Up to 80% of the AV of the property |
| Reimbursement of acquisition/construction cost | Up to 80% of the selling price or AV |
| Loan take-out | Up to 80% of the AV of the property |

Note: Foreigners are entitled to a maximum loan grant up to 70%.
Collateral
The loan shall be secured by Real estate mortgage (REM) on the property being financed
Interest Rate
Manner of Release
The proceeds of the loan will be released in Philippine Peso for purchase/acquisition transactions or in Japan Yen for House Construction in the following manner:
Lump sum release for purchase of property, refinancing or reimbursement
Staggered loan releases shall have an aggregate amount of up to eighty percent (80%), except on the first release wherein the basis shall be seventy percent (70%) of the AV of the lot. Loan releases shall be up to a maximum of five (5) drawdowns which shall be made at the following stages of completion:
| | |
| --- | --- |
| Loan Release | Stage of Project Completion |
| First/Initial Release | Start of the construction/improvement (below 30% completion) |
| Second Release | Thirty percent (30%) completion |
| Third Release | Sixty percent (60%) completion |
| Fourth Release | Ninety percent (90%) completion |
| Fifth/Final Release | One hundred percent (100%) completion |
Repayment Scheme
Maximum of 25 years for purchase of house and lot, townhouse condominium unit, rowhouse or apartment unit and house construction.
Maximum of 10 years for purchase of lot or home improvement
Repayment of your loan shall be in Japan Yen where the overseas branch is located. This shall be paid directly to the overseas branch via automatic debit arrangement or over-the-counter payment.
For staggered releases, interest accruing on the initial release shall be deducted from the proceeds of second release. Additional interest due on the first release and interest accruing on the second release shall be deducted from the third release and so on. Consolidation of staggered PNs (Principal + interest) payment shall commence one month after final release.
Insurance
Mortgage Redemption insurance depending on the amount of the loan shall be secured by the principal borrower prior to loan release and shall be renewed every year thereafter at an amount based on the outstanding loan balance.
Fire insurance coverage should be equivalent to the latest appraised value of the insurable property or on the contact price as indicated on the Contract to Sell.
OPHL Requirements:


Application/Identity Documents
Copy of Passport
One passport size picture (husband & wife)
Copy of Residence Card (Non-Japanese)
Copy of Driver's License (Japanese)
Marriage Certificate (Koseki Tohon), if applicable
Residence Certificate (Jyumin-Hyo)
Income Documents
Original Certificate of Employment indicating date of commencement of employment, present salary and position. If self-employed, Business Registration Certificate.
Latest 3 months payroll slips
Income Tax Returns (Kakutei Shinkoku) or Withholding Tax Certificates (Gensen Choshuhyo) for the past two (2) years. If self-employed, copy of tax payments for the past two (2) years.
Collateral Documents
Copy of title (TCT/CTC)
Copy of Tax Declaration on land and/or improvement
Copy of current Real Estate Tax Receipt (RETR) and Tax Clearance
Approved survey/lot plan (signed by Geodetic Engineer)/location plan with vicinity map

Acquisition from accredited Developers

Contract to Sell; or Reservation Agreement with Computation Sheet / statement of account
House Construction or Renovation:
Bill of Materials and Estimates of Construction and Labor Cost signed by Civil Engineer or Architect
Floor and Building Plan and Building Specifications signed by Civil Engineer or Architect
Application Process
Send a completed application package to PNB Tokyo or Nagoya together with supporting documents.
Upon receipt of complete application package, a formal appraisal and credit investigation report will be requested from PNB Head Office to check the credit worthiness of applicant. Analysis will be conducted in accordance to existing credit standards, taking into consideration the following: Applicant's character, capacity to pay, tenure of residence and employment.
The approval evaluation process will take approximately 15-20 days upon receipt of the complete documentary requirements and will be contingent upon receipt of acceptable appraisal figures on the proposed property. Decision will be conveyed to the application in writing.
Upon final approval, loan documentation will be prepared. Collection of JPY 25,000 application fee will be made upon acceptance/conformity of the Facility Letter. Loan related documents will be signed by the borrower in Japan. This will require notarization by the Philippine Embassy in Japan. If borrower is a non-Filipino, all loan documents should be notarized first by a Japanese Notary Public then authenticated by the Gaimusho, and by the Philippine Embassy.
Mortgage Redemption Insurance will be secured based on the approved loan amount and fire insurance coverage based on the improvement or appraised value/contract price.
Original copy of TCT/CCT under borrower's name, free and clean from any lien and encumbrance, fully signed pertinent documents from the seller/developer, and annotated registration of Real-estate Mortgage (REM) from the Registry of Deeds must be on hand prior to loan release to owner/seller. Original collateral documents will be safekept at Head Office and copies will be supplied to PNB Japan.
For accredited developers, upon borrower's conformity, release of loan proceeds will be allowed upon execution of Deed of Undertaking by the developer.
The entire process, including appraisal, filing, completion of documents and loan release is expected to take approximately three (3) months, more or less. It all depends on the completeness of the documents and the swiftness of the seller/developer to transfer the ownership of the title to the borrower's name. The loan approval is valid for 180 days or 6 months. Beyond 6 months, the bank needs to reevaluate the application.
Arrangement fee of 1% of loan amount equivalent in JPY or JPY 25,000 (whichever is higher) will be charged upon loan release
Thereafter, schedule of amortization/repayments and other pertinent documents will be sent to the borrower right after the release of the loan.
LOAN RELATED EXPENSES LIST
PNB TOKYO BRANCH OWN A PHILIPPINE HOME LOAN PROGRAM
ESTIMATED DOCUMENTARY EXPENSES
Documentary Expenses
Amount
IN JAPAN
1) Application Fee
JPY 25,000
2) Notarization / Authentication Fee
2.1 For Japanese Borrower or Filipinos married to Japanese and other Foreign nationals

Loan Agreement, Real Estate Mortgage, Deed of Undertaking and Deed of Assignment should be authenticated by the ff:

JPY 11,500 for each document subject to change

a. Notary Public (Koshonin Yakuba)

b. Ministry of Foreign Affairs (Gaimusho) for Japanese

c. Philippine Embassy

JPY 2,875 for each document subject to change

2.2 For Filipino Borrowers

a. Philippine Embassy

JPY 2,875 for each document subject to change

3) Arrangement Fee

1% of the loan amount or JPY 25,000 whichever is higher Note : Payable upon release of loan

4) Revenue Stamp for Promissory Note

Tax will vary on the loan amount

5) Revalidation Fee

5.1 After the lapse of 6 months validity of loan approval (Full credit investigation)

JPY equivalent to PHP2,000 plus JPY 10,000

5.2 After the lapse of 1 year validity of loan approval (Full credit investigation and Inspection & Re-appraisal)

JPY equivalent to PHP5,300 plus JPY 10,000

IN THE PHILIPPINES

6) For Annotation of Real Estate Mortgage

6.1 Documentary Stamp Tax

Amount of Mortgage

EX) PHP2,000,000 / 5,000 x 10 + PHP10 = PHP4,010

6.2 Registration Fee payable to Register of Deeds (RD)

Based on RD Schedule of Fees

6.3 Notarial Fee

PHP 200 per document (Real Estate Mortgage & SPA)

7) For Release / Cancellation of REM (Take-out & Refinancing)

7.1 Registration Fee payable to the RD

Amount of previous loan to be cancelled x 10%. Result shall be then referred to RD Schedule of Fees.

7.2 Miscellaneous Expenses

PHP 300 (if previously mortgage with other bank)

PHP 200 (if previously mortgage with PNB)

8) Mortgage Redemption Insurance Premium

9) Fire Insurance Premium

10) Others: Incremental Expenses
PENALTIES FOR PAST DUES AND LATE PAYMENTS
All late payments shall be equal to 18% of the amortization amount.
The bank will attempt to collect 18%/annum on all delinquent accounts. Series of demand letters will also be sent to the borrower. After 90 days past due, the bank reserves the right to proceed with the immediate foreclosure on the property.