Unit Investment Trust Fund (UITF)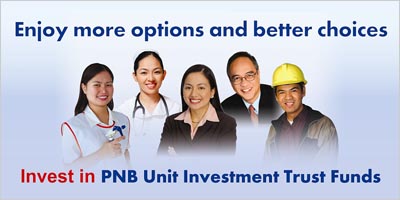 UITF's are hassle-free investment funds where your money is pooled together with the money of other people. We then invest these pooled funds in high-yielding assets, which were previously only available to people with large amounts of money to invest. You can choose from a full range of fund types to match your requirements.
All our UITFs offer functional benefits, including:
professional fund management to optimize your investment opportunities in respect of your risk preference;
diversification to spread out the risks;
high liquidity so your funds are redeemable anytime after the minimum holding period;
convenient and hassle-free investment, especially if you are too busy to manage your savings
Click on the links below to learn more about our UITFs.
Start investing online. Click here to learn more!